For the 3rd consecutive year, my wife and I went backpacking for our anniversary, and invited along another couple. We hiked into the Grandaddy Basin (High Uintas) on Thursday, and planned to hike back out on Saturday.
This year we planned to take our dog Sitara, because we knew she would love it--and we were mostly right. We had a backpack for her to carry in her own food and collapsible bowls. The 7 miles in, she was constantly investigating the sights and smells along the way. Like a good shepherd, she would also circle back to check on stragglers.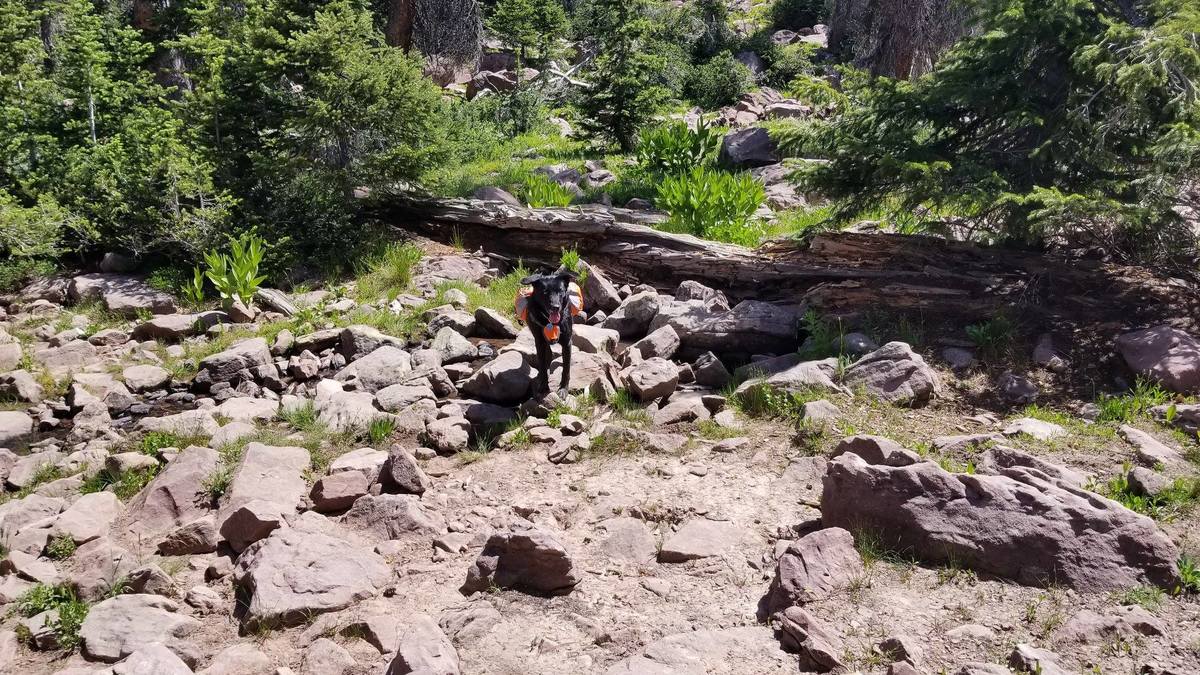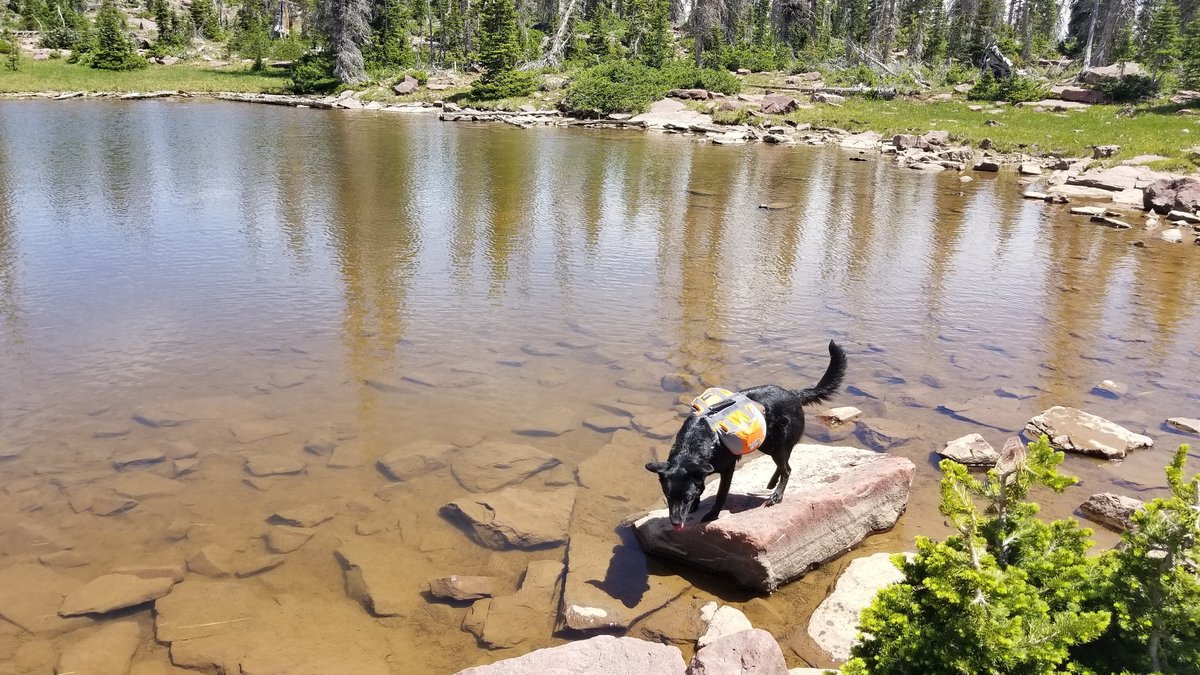 We arrived at our campsite, and all was still fine. Sitara primarily sticks with me, since she considers me "her" human", but she also very faithfully followed each of us as we went to use the designated bathroom area, even though some of our group might have preferred more privacy.
All was well with her that evening, and throughout the next day on a hike we took to a remote lake on the ridge above us. But when we got back to camp, she was struggling to walk. She acted like her paws hurt, and in fact she pulled them away when we tried to check them. She really wanted to follow me down to our lake when I went to fish, and she did, but she was apparently in a lot of pain.
My wife and I were worried. We started planning how we would haul out our 45-50 lb. dog. I came up with a plan for a stretcher--it would be a real pain, but would probably be the most effective way to haul her. That's how concerned we were. During dinner, she hardly ate, and just laid around.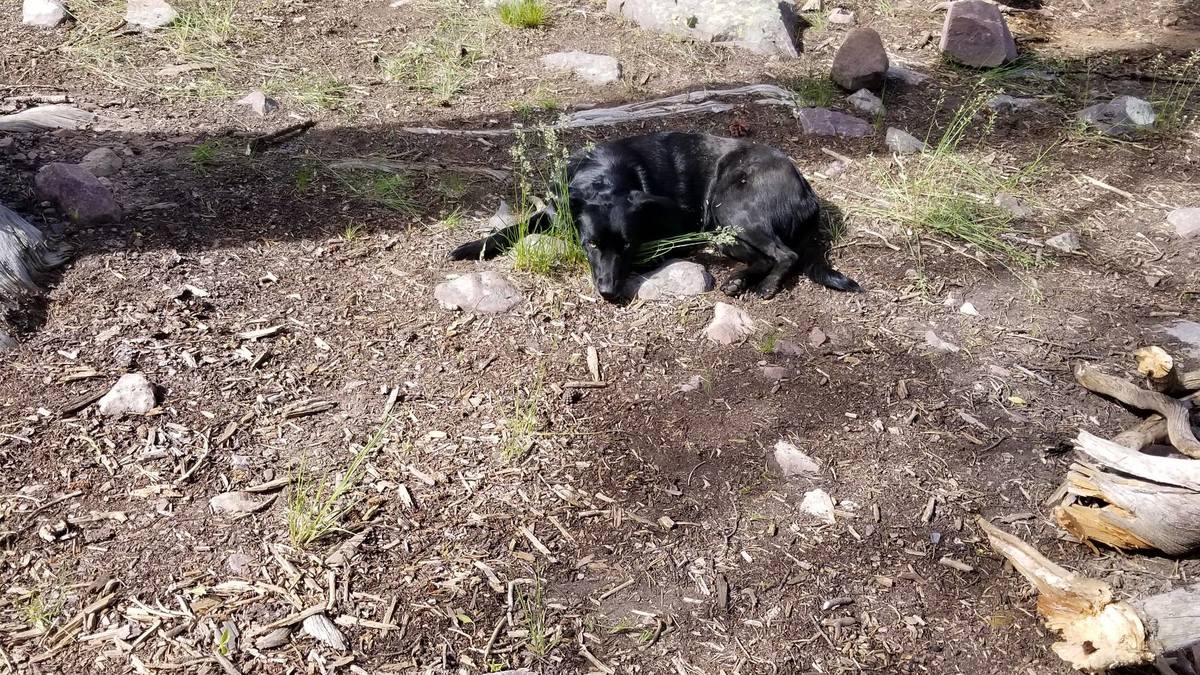 That night, my wife and I prayed for our dog. Two years previously, in this very same area, we had seen a lost dog, frantically looking for his family. I prayed for that dog then (another story for another time), and that was because I had just taught my primary class about praying over everything. You can bet I would pray for my own dog here, and ask for Heavenly Father to help. Mock me for that if you want, but I believe God answers prayers, even for dogs.
Sitara didn't eat much for dinner, and wouldn't drink more than just a little water. We put her in her spot at our feet in our tent, and she curled up and didn't move. I checked on her several times throughout the night to make sure she was breathing.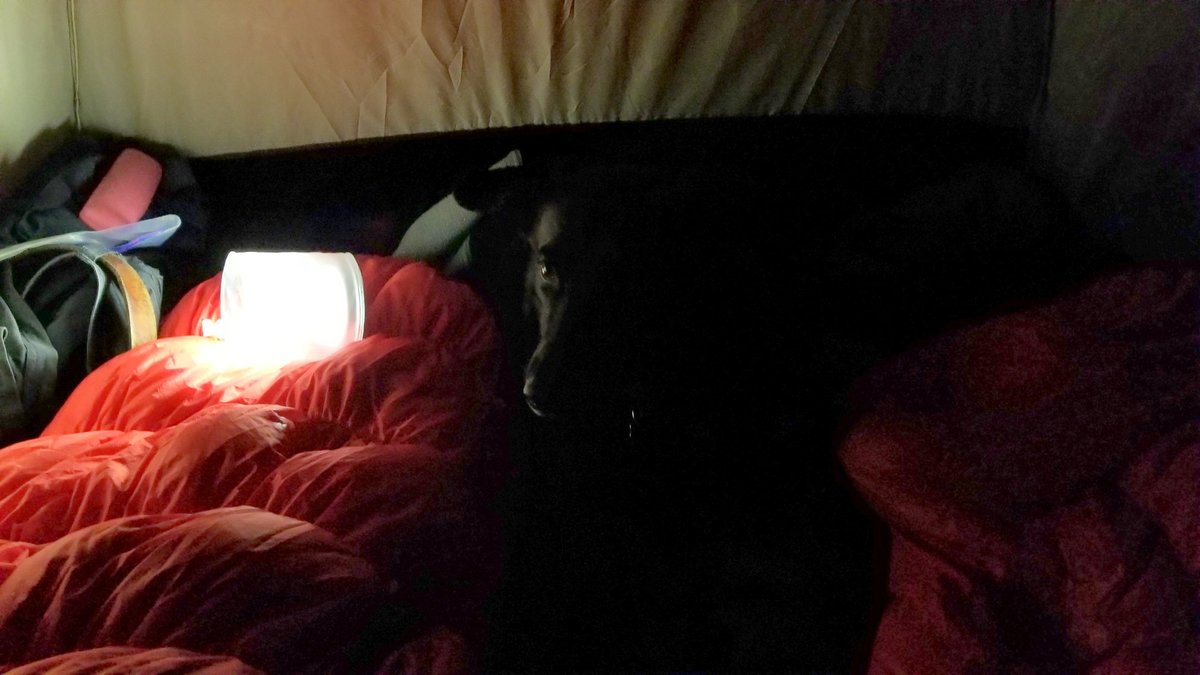 In the morning, we got up and started packing our gear. I got her out of the tent, but she just laid down again. She started shivering, which wasn't at all normal, so I covered her up with my fleece jacket to keep her warm (and, yes, I made a dad joke about "my dog has fleece"). I got her to eat some food, and drink a little.
We put on our packs, and Sitara hopped up a little gingerly, but seemed ok. When we made it through a lakeside rough stretch of steep forest and rocks to a little meadow, she looked perfectly fine. We hiked out 7 miles, and our dog was back to her normal self.
I don't know if it was an answer to prayer, or if our dog just coincidentally got better right at the time we needed her to make the long haul out. I may be a little simplistic in my approach to things, but I think it was an answer to prayer. Maybe that type of belief is why I get along well with the Primary kids as a teacher. Whatever the case, I think it's a good story, and it happened to me just a little over a week ago.