when it comes to performance, the Toyota Tacoma has fallen: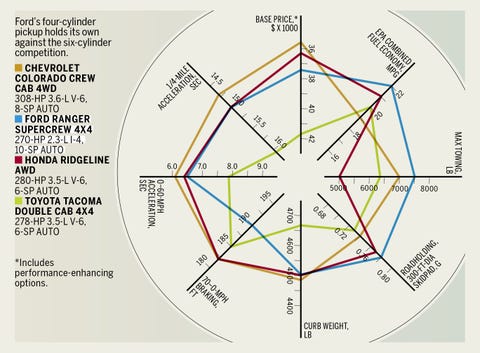 This is from a Car and Driver article on the Ranger.  The further out from center on the graph, the better the performance on the metric.  The Ridgeline, Ranger, and Colorado all have one metric they perform poorly on, meaning each took a turn coming in last.  Otherwise, the Tacoma comes in last in the other 5 metrics while never approaching the leader in any metric.  If the Tacoma wasn't last out of four, it was third.  The Colorado came in first or tied for first in 5 metrics, the Ranger in the other 3.  Except in max towing, the Ridgeline holds its own, which is interesting to see for a front wheel drive vehicle, unibody vehicle in this class.
It's just interesting to see just how far back the Tacoma has fallen when it comes to performance, yet it remains the class leader.  An interesting case study in just how long something can rest on its laurels.  There is the quality and dependability side of things that I sure the Tacoma excels at, but performance wise it has fallen way behind.