First, SS:
USSS or Secret Service:
Now that we've cleared that up... The claim is that Special Agent Hickey picked up the AR-15 after the first shot. An image of Hickey holding the rifle is commonly used to demonstrate this: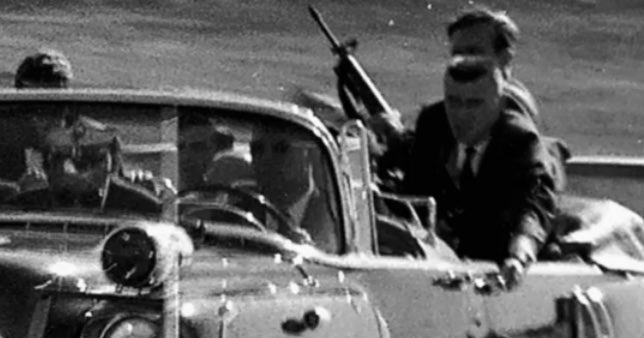 However, that image has been cropped. The full image is below:
This image clearly shows SA Clint Hill in the foreground, already on top of the limo attempting to shield the First Lady and President. Considering he didn't reach the limo until well after the final headshot, this image is likely more consistent with Hickey's testimony that he retrieved the rifle after the final shot. Consider the likelihood that a car full of agents (including the only one who acted even remotely appropriately, SA Hill) would not react and disarm the agent carrying the rifle if he'd just had a negligent discharge that happened to blow apart the President's head. He would not be carrying the rifle at the point that photo was taken, which is clearly post-shooting during the rush to the hospital. This alone debunks the theory, without even having to address a number of other problems with it.
The Secret Service botched a number of things that day. Accidentally shooting the President is not among their mistakes.